Herb and Eleanor Nelson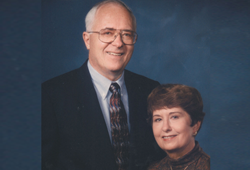 Herb and Eleanor Nelson spent their lives fulfilling a passion to serve others. Early on, Eleanor was a schoolteacher. Herb served in the US Navy during World War II and was on duty at the Japanese surrender on V-J Day. They met while both worked for Johnson & Johnson in New Brunswick, New Jersey where Herb enjoyed a 41-year career. He held a number of positions, including Director of Corporate Contributions and an executive role within the J&J Corporate Foundation. In the 1970's, Herb led J&J's effort to revitalize the city of New Brunswick.
During their 56-year marriage, Herb and Eleanor raised three sons and lived in New Jersey, Florida, and Texas. They were members of five Lutheran congregations during their marriage. Each time they relocated, the guiding principle during their search for a new church home was this: where can we best contribute our time and resources to benefit the congregation? Herb served as president of each one. Their generous contributions of time, talent, and treasure to church and other charitable causes testify to their shared conviction that the resources they possessed were not theirs, but assets entrusted to their care and stewardship by God.
In their retirement, the Nelsons were active in organizations whose missions encompassed education, health care, and community service. Herb co-founded Faith in Action, Lone Star Circle of Care, and The Georgetown Project. He was president of the Board of Regents of Concordia University Texas, and served on the boards of Legacy Deo and the William D. Kelley Foundation. Eleanor participated in various women's groups of their congregation, served on the board of Upbring, and volunteered with several community organizations.
Unsurprisingly, the Nelsons established an estate plan to share their assets after they went to Heaven. Through Legacy Deo, they established the Herb and Eleanor Nelson Nursing Scholarship at Concordia University Texas. In memory of Eleanor's parents, they established the Rev. George and Susan Kozelnicky Family Scholarship at Concordia Seminary in St. Louis, Missouri. Their strong Christian faith was the motivation for everything they did. Although Herb passed away in 2014, and Eleanor in 2020, they will be long remembered as caring, committed Christians who used their resources to positively change people's lives.