Morales Family Endowment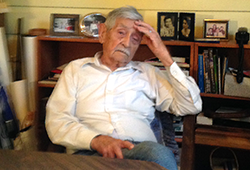 Frank served in the United States Army and the Marine Corps during World War II. Angelina (Angie) grew up in an East Texas small town. After marrying in 1955, they moved to Houston where Frank was starting a Lutheran elementary school in the inner city. They struggled financially on Frank's teacher salary, but their faith in God enabled them to persevere. Angie went to college and eventually earned a master's degree in education. She and Frank were steadfastly committed to faith, family, and education. Their children, Rebecca and James, both graduated from Rice University.
Angie was a beloved and dedicated teacher to two generations of small children at Lutheran elementary schools. She went to her heavenly home in 1999 after a courageous battle with cancer. In reflecting on Angie's life-long commitment to Christian education, the family decided to establish a scholarship endowment in her memory. The Morales Family Endowment provides financial assistance to families who desire to educate their children at Lutheran schools in Houston. The endowment became the family's passion, their commitment to it made evident through incremental gifts added over the years. Frank joined Angie in heaven in 2017.
Through the Morales Family's legacy, more than 15 Lutheran schools and early childhood programs have received tuition assistance funds for families that might not have been otherwise able to afford a Christ-centered education for their children.