Herb and Patricia Noack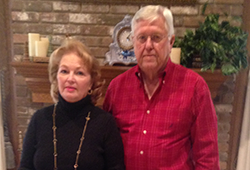 Herb and Patricia were born and raised in Del Rio, Texas. They dated throughout high school and married in 1964. They moved to Houston, where Herb practiced public accounting and later was a partner in a successful CPA firm. The couple has been blessed with two sons and five grandchildren. Of these blessings, the most important to them is their faith. They frequently tell friends and associates that their spiritual life is the foundation on which their family has been built.
Realizing that many of their blessings are things money can't buy, Herb and Patricia established a charitable remainder unitrust as a way to create a lasting reminder of their family's legacy. The income they currently receive from the trust supplements their retirement. Eventually the trust's remaining assets will be gifted to Legacy Deo for its unrestricted use. Being native Texans and wanting to support a variety of Texas ministries, they are assured that the mission of the Texas District-LCMS will be supported through Legacy Deo's oversight of their generous gift.