Blessed by a Donor's Generosity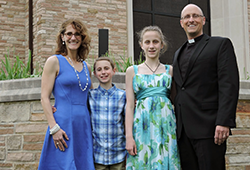 Donors can powerfully impact people and real ministry. Here is an illustration:
In 2016, while a student at Concordia Seminary in St Louis, Bill Crowe received a stipend from the Ernest and Ruth Bolland Charitable Trust administered by Legacy Deo. Bill began his note of thanks to the donors this way: "I cannot begin to express how grateful I am for the generous gift provided by the Bolland Trust and how overwhelmed I am by its timing. I'm in my concluding year here at seminary and they are offering a unique opportunity to study in Israel in June. It is a once-in-a lifetime class, and by God's grace, I was selected to go! The catch is that it costs an additional $1,000 to go on the trip. How amazing our God is! Imagine my surprise when I received a check for that exact amount. God truly provides in the most remarkable ways."
Interestingly, Bill's favorite part of the Israel trip was the return flight to the US. In the airport he encountered a Christian lady and an Orthodox Jewish man who were discussing several religious topics. He wrote, "With each discussion, I had the incredible blessing of bringing the experiences of two weeks' context to life." Bill related the Old Testament prophecies, then left the Jewish man with this weighty thought as they boarded the plane, "Have you ever wondered how it is that thousands upon thousands of Gentiles came to believe in the Jewish Messiah? All these people are trusting in Messiah except for the Jews. Who is this Jesus?"
Bill is now an Associate Pastor at Faith Lutheran Church in Georgetown, Texas. He has not forgotten this life-changing ministry experience, nor has he forgotten how richly blessed he is because of the generosity of a donor.