Rollins and Patsy Roth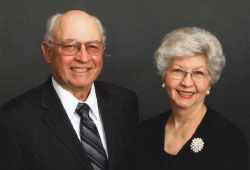 Rollins and Patsy Roth are native Texans and life-long Lutherans. Rollins spent many years working as a geologist in the oil business. He and Patsy are now retired in Breckinridge, Texas. A few years ago they began thinking about their estate plans. They wanted to fulfill their goals of leaving an inheritance for family as well as leaving money to support God's work.
In their own words, here is their heartfelt belief: "Nothing we have made or accumulated belongs to us - it all belongs to God. We felt blessed and we wanted to bless others. We felt that we owed it back to God in thanks for what He has given to us."
Acting on that belief, the Roths established a charitable remainder unitrust with Legacy Deo. They funded it with stock that had appreciated in value. By gifting the stock directly to Legacy Deo rather than selling it themselves and gifting the cash proceeds, they avoided capital gains taxation. Through the trust, they now have a plan that will provide for family members for a term of 20 years. At the end of that time, the amount remaining in the trust will fund a new endowment that blesses Texas Church Extension Fund and Lutheran Hour Ministries in perpetuity.