RJ and Robert Nitsche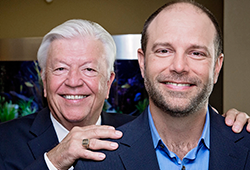 2020 marked the 30th anniversary of the Jamin Barrett Nitsche Memorial Endowment Fund, a Legacy Deo scholarship fund that has had a tremendous impact on the lives of hundreds of college students from Texas. The fund was established in memory of sixteen-year-old Jamin Nitsche, a high-school athlete with a bright future, who lost his life in an automobile accident in Lee County, Texas. Parents R J and Linda Nitsche and their son, Robert, started the fund not only to honor Jamin, but also to ensure that something positive would result from this tragedy.

Shortly after the first scholarships were distributed, another tragedy struck the Nitsche family. This time, Linda was killed in an auto accident. Although R J and Robert were devastated, their Christian faith provided strength and hope, allowing them to move forward through their grief. A year after the incident, R J and Robert established a second scholarship fund with Legacy Deo, the Linda Barrett Nitsche Memorial Endowment Fund.

Over the years, these endowments have awarded nearly $1 million in scholarships to more than 300 students who are committed to living out their Christian faith. The scholarships have provided young adults with a springboard to opportunities in both secular and spiritual vocations. Several recipients have shown their gratitude by giving back to the endowments with financial gifts of their own. The Nitsches are to be commended for turning their personal tragedies into a blessing for so many, all to God's glory.