Lisa Kay Karle Endowment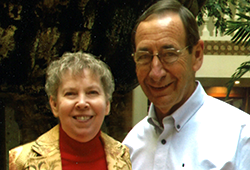 In 2013 Fred and Karen Karle began their plan for a meaningful way to remember their daughter, Lisa Kay, whom the Lord took home in 1992. Lisa was diagnosed with cancer in her senior year at Texas A&M University and had already been accepted by TAMU's prestigious College of Veterinary Medicine.
Fred is a successful businessman and citrus farmer from the lower Rio Grande Valley. He and Karen are long-time members of St Paul Lutheran Church in McAllen. They established an endowment in Lisa's name to provide college scholarships for graduating high school seniors who have been active members in St Paul's Lutheran Youth Fellowship, an organization in which Lisa had been very active during her teenage years.
Fred and Karen also established a charitable remainder trust with Legacy Deo that provides reliable income during their lifetimes. At the termination of the trust, half will be distributed to St Paul's sanctuary construction fund and the rest will augment the endowment. The Karles have established a God-honoring legacy that will have a lasting impact on the spiritual lives of many young people, as well as the congregation that has nurtured their faith for many years.