Dorothy Williamson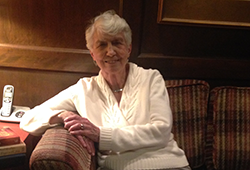 Dorothy Williamson was born in Oklahoma to a large and loving German Lutheran family. In 1937 her family relocated to Houston, where Dorothy attended and was confirmed at St Matthew Lutheran Church. The congregation was a focal point in the family's life.
Dorothy later married Jim, and they enjoyed many years together until Jim passed away in 2009. Although Jim and Dorothy had no children of their own, they were devoted to their 19 nieces and nephews. Following Jim's death, Dorothy began discussing with Legacy Deo some options to support ministries that had been important throughout her life. She eventually established the Jim and Dorothy Williamson Endowment to support campus ministries at three of Texas' largest state universities: The University of Texas at Austin, Texas Tech University, and Texas A&M University.
Dorothy also established a charitable remainder unitrust that pays her income during her lifetime. When Dorothy goes to her eternal home, the trust's assets will be added to the endowment and expand its impact.
Praise God for the legacy planned by Dorothy, one that offers the life-changing reality of Jesus Christ to college students.