C.K. Koelle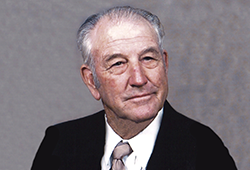 Claremont Kenneth (C K) Koelle, a devoted farmer, rancher, and Christian gentleman, lived his entire life in Hidalgo County, Texas. In fact, his family was one of the original pioneer settlers of the lower Rio Grande Valley. He loved the land he farmed and respected it as God's gift.
He and his wife, Coylie Elizabeth, were married for 57 years. Though they had no children, they had the love and respect of an extended family and many close friends. God blessed them with a significant estate through years of hard work and a frugal lifestyle. In 2001, they worked with Legacy Deo and their personal advisors to establish a charitable trust and to prepare their wills, which allowed the balance of their estates to enlarge the trust.
After C K's passing at age 92, Coylie received income from the trust until she went to heaven in 2016. Through their trust and estate plan, the Koelles prayerfully chose to make an impactful gift to Legacy Deo. They also remembered two McAllen churches, St Paul Lutheran and St John's Episcopal, with major gifts that will bless their campuses and schools for many years to come.